Technologies are not standing still; they are on the upswing every day. Some software trends are changing each other, while others continue to rise. To stay on top in the field of software development, it's vital to understand shifts in trends to be focused on realms that are currently in need. Below, we discuss the key trends that sharpen the industry of software development in 2021.
Python Is ahead of the Pack
The Stack Overflow's 2020 Developer Survey proves the leading position of JavaScrip among the professional developers, accounting for 69.7% of all responses. Still, the recent software trends show that Python is close on the heels of JavaScrip. Moreover, it is currently the fastest-growing programming language. Its boost is explained by the escalating preference of web developers to use Python for their apps with Artificial Intelligent and machine learning features.
As for Jul 2021, the PYPL index sets Python at the 1st place as the top gaining (16.6%) programming language for the past five years. In the long run, Python is predicted to hold the first line with its low entry barriers, a wide range of software libraries, a supportive community of detailed guides, professional forums, and a new generation of developers.
The PYPL Top 20, July 2021 compared to a year ago: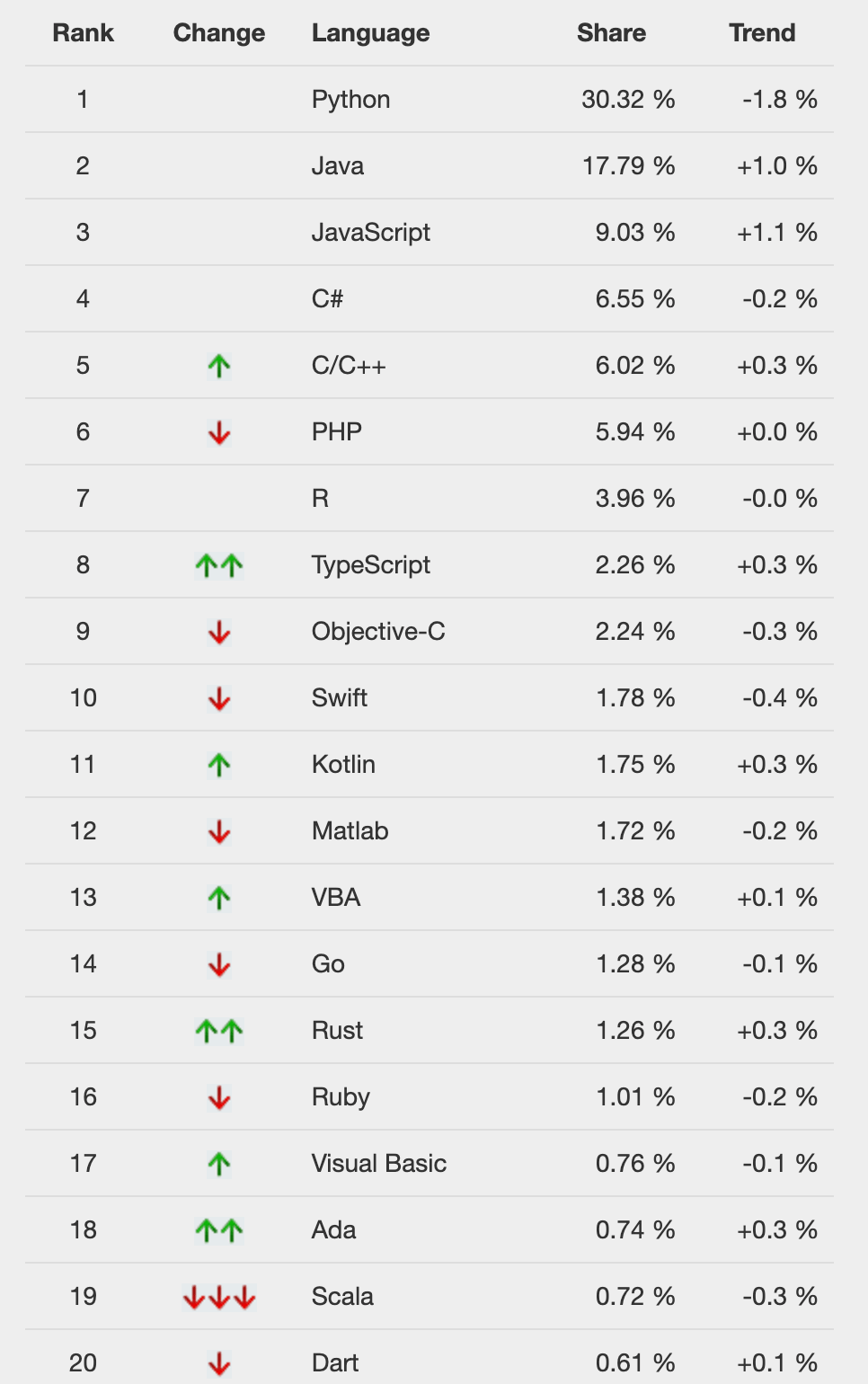 © Pierre Carbonnelle, 2020
Artificial Intelligence: Another Step aside Humanless Operations
Year by year, Artificial Intelligence steadily strengths its applications in various branches. Being powered by such technologies as deep learning, machine learning, vision, neural network, etc., that have grown exponentially each, AI nowadays is a powerful instrument for solving complex tasks. Human involvement in different processes is dropping down. For example, using chatbots in web and native apps drastically reduces costs for businesses in terms of trained and high-qualified personnel in human assistance and customer service. Among the most promising trends in AI are neuro-linguistic programming and automated speech recognition, computer vision applications, robotics, and predictive analytics.
Internet of Things: On the Rise
Ten years ago, the Internet of Things (IoT) was a promising technology but being outside the realm of probability. Nowadays, it has become an integrated part of the reality we live in. IoT has evolved into a pervasive, internet-connected system that profoundly penetrated our daily routine. Artificial Intelligence (AI) and Big Data intensify the rise of the IoT as one of the leading branches of the computing industry. Moreover, thanks to rolling out 5G technology, the number of connected devices that take advantage will significantly increase as well as the scope of IoT applications. According to the Business Insider projection, the number of IoT devices will reach 41 billion by 2027, and the total IoT investments will increase almost five times, which is more than five times up compared to 2019.
Build your IoT project with
SensorOcean
. You prototype IoT devices, we help to make it a complete solution.
The COVID-19 pandemic has urged a worldwide use of remote healthcare. Assisted by IoT, digital healthcare systems are transforming. As a result, these systems become capable of facilitating an increased number of regular virtual checkups, the ability of timely sharing of clinical care guidelines, and further development of the healthcare software systems.
Mixed Reality: A Perfect Blend of VR and AR
Being a combination of Virtual Reality (VR) and Augmented Reality (AR), Mixed Reality (MR) is going to change the interactivity of applications forever. While some may think about the gaming industry as the target one for MR, there are many more realms where this software trend can be applied. Media and entertainment sectors can create engaging content for their customers; defence, healthcare, and government organisations can use MR to train their staff on complex jobs; the architecture and construction sector can use it for modeling. In 2020, the global mixed reality market was estimated at $155.85 Mn. By 2029, Business Wire forecasts it will grow to $3417.64 Mn.
Progressive Web Applications Gain Momentum
While the world is readily moving to mobile-first applications, many still prefer web ones. That's why most businesses have their web versions of products, as well as native apps (Android and iOS). While website-based apps can be reached via any browser, the platform-specific applications can make maximum use of the hardware and software capabilities. However, the full potential of both is combined in progressive web applications (PWAs).
A distinguishing feature of PWAs is their availability: they can be run on any platform, still performing great. Most software development companies have already started using this type of app, as it is cost-effective and time-saving from the development side. Among killing characteristics of PWAs for the users are: fast downloading to any platform, similar to native apps user experience, push notifications, off-line and on-line modes of operation, automatic updates on every revisit time, etc. Such a two-side beneficial combination grants PWAs a steady development.
Low-code Proves Its Efficiency
Among software development trends, simplification is the most up-to-date. Particularly, it implies minimization of hand-coding. That means that both web and mobile digital solutions can now be developed by people with limited or no specific development skills. According to the 451 Research report, the low-code saves 50-90% of development time. Instead of manually code writing with complex programming languages, it allows creating applications via graphical user interfaces (GUIs). Wide implementation of low-code has transformed a software development approach of the line-by-line code scripting: from threatening IT people practice into a useful development tool.
Continuous Integration, Delivery, Deployment: Three Whales of Modern Software Development
In the fast-paced world, new product features are critical to be rolled out as soon as they are ready. A big package of features and bug fixes that are gathered in one release is a relic of the past. Continuous integration, delivery, and deployment tools ease the ongoing monitoring of the entire lifecycle of apps. That's why software development teams can present changes in configuration, new features, and fixed bugs to the end-users continuously, right after something is ready to be released.
The IT market, just like any other, depends on new technologies, changes in customer preferences, and the development of new methods of processing. Digital acceleration is a driver for any modern, successful company. And to hold its success, in the long run, companies need to keep up with new trends.