On May 18, 2016 Google announced pretty cool new highlights and products in its Keynote from Google I/O 2016. We have decided to outline the most promising feature that will most probably become a trend in development of mobile apps, from Edgica's point of view – Android Instant Apps.
There have always been a gap between web based and native mobile apps, just like there have always been a fight between two opinions – what is the best way to deliver great user experience on mobile – web or native?
The web option, that looks universal and easy to "deploy" on different devices, found an answer in HTML5/CSS3/JS to stay as smart UI.
On the other hand, the native side appeals to sophisticated UI features and deep native integration that can bring the best UI experience.
And, here is another side of the subject that was precisely illustrated in the comic from XKCD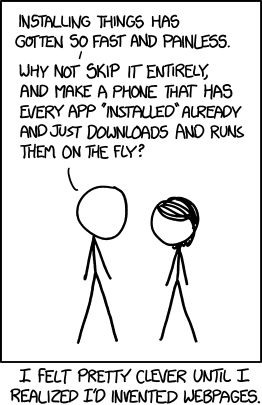 Well, it looks like Google suggested a way to eliminate the existing gap – Android Instant Apps.
In a few words, the instant apps are about the following idea: when you visit a URL that has an associated Instant App, you get a special mini version of that app on fly, instead of visiting the webpage itself, without going through installation and other time consuming steps when opening the new app. Isn't it fascinating !?
That also changes the way you find new apps – instead of searching for new staff in massive App stores, you get a specific app right here and right here. In other words, it could be called a contextual apps' delivery.
Here is a video from The Verge to better explain the idea
Furthermore, the Instant apps will move a single sign-on feature point from web to mobile, meaning that once you get authorized on your gadget, you will not need to pass security steps again and again on web. This fast and safe access will be possible because the contextual instant app will use security settings from your gadget to grant you and access to appropriate service immediately.
There is another improvement the instant apps could bring – the messaging/chat bots. In general, bots are the hot trend these days, even though they are not really convenient since you need to type and pass a menu-like steps to access the information needed. The instant apps could improve the way we interact with bots.
You can find the entire two-hours Google I/O Keynote here. Or if you are short in time here is nice outline of the event from Wired.